You are playing Super Mario Sunshine 64 game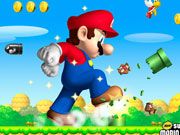 DESCRIPTION:
Mario was returning from vacation and suddenly he noticed that the evil Bowser attacked his mushroom kingdom and captured the princess peach. Mario has to go after Bowser to save his love from evil clutches of Bowser. Help Mario to explore the evil world, beat all the enemies and finally save the princess. Use left and right arrow keys to walk, up arrow to jump, and press spacebar to use fludd. Crush the enemies by jumping over them and collect coins to score points.
All copyrights and trademarks of this game are held by owners and their use is allowed under the fair use clause of the Copyright Law. If you believe we violating your copyrights, please advise us at copyright(at)playramp.com in order that we can solve the problems.
Add This Game to Your Site:
Link to The Game: