You are playing Autofrag Sumo game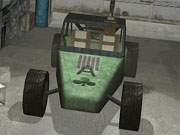 DESCRIPTION:
Auto Frag is a driving game with a bunch of weapons! Destroy each enemy car using missiles & machine gun fire. Last man standing wins so aim wisely & protect your car at all costs or your car is going to get fragged!
All copyrights and trademarks of this game are held by owners and their use is allowed under the fair use clause of the Copyright Law. If you believe we violating your copyrights, please advise us at copyright(at)playramp.com in order that we can solve the problems.