You are playing Garage Parking Challenge game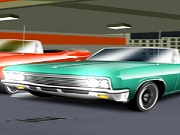 DESCRIPTION:
Garage Parking Challenge is another interesting driving type parking game. Assume you are in garage and all the responsibility of parking cars and other vehicle is your job. Use your arrow keys to drive your vehicle on several tracks and be sure to have a good control and balance for not crashing. There are ten awesome levels available for you, try to clear each level with your driving and parking abilities to complete the game. You have three chance in the game for driving and parking your vehicle in right parking lot. Acquire maximum number of point icons to make your score huge.
All copyrights and trademarks of this game are held by owners and their use is allowed under the fair use clause of the Copyright Law. If you believe we violating your copyrights, please advise us at copyright(at)playramp.com in order that we can solve the problems.
Add This Game to Your Site:
Link to The Game: