You are playing Car Thieves Mania game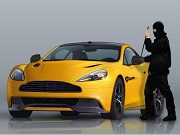 DESCRIPTION:
Car Thieves Mania: You are into a dirty business of steal cars and you love it, you have an extraordinary skills to unlock the car doors with no need of a key. Use your arrow keys to drive your car, left click the mouse button to take the rubber off from car window, press space bar to move iron bar in unlocking the car door. Drive your car and reach the target spot to steal a car, once you see car in highlighting circle press z to get off from your car and go closer to the car which you are supposed to steal and tap z key. Now drive the stolen car and reach right spot to complete the level. Keep your eye on map at the bottom of you screen and drive your car safely without getting crash. There is a time limit, so clear the level before you run out of time. There are eight amazing levels available, so clear all and enjoy the game.
All copyrights and trademarks of this game are held by owners and their use is allowed under the fair use clause of the Copyright Law. If you believe we violating your copyrights, please advise us at copyright(at)playramp.com in order that we can solve the problems.
Add This Game to Your Site:
Link to The Game: