You are playing Crash Town game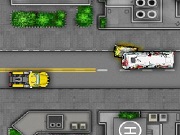 DESCRIPTION:
Crash Town is another very challenging traffic control game. In this game, you got a responsibility to control the traffic on very busy highways in various cities and zones. You have to use your mouse to play this game, use left button of your mouse to hold and drag signal lights and other sign boards to either stop or move vehicles. There is an assigned target of vehicles which are supposed to cross the road, try to place the sign board in correct areas of the road to make vehicles cross the road safely. As game progress, levels will get much harder with increasing number of vehicles. There are three zones with 30 levels in the game, so complete all levels and win the game.
All copyrights and trademarks of this game are held by owners and their use is allowed under the fair use clause of the Copyright Law. If you believe we violating your copyrights, please advise us at copyright(at)playramp.com in order that we can solve the problems.
Add This Game to Your Site:
Link to The Game: