You are playing Supercar Parking 2 game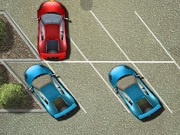 DESCRIPTION:
Supercar Parking 2 is new very challenging driving game that challenges you to drive your car and park it in the marked parking spot to successfully complete the level and to unlock the next level. To drive and control your car in this game, you must use your A,W,S,D group of keys, but keep one thing in mind that this game in not about speed, it's all about how well you control and handle your car and park it in marked spot without crashing other cars which are parked in lot. There is a time limit in each level, so drive and park your car in multiple lots to unlock the levels and to win the game.
All copyrights and trademarks of this game are held by owners and their use is allowed under the fair use clause of the Copyright Law. If you believe we violating your copyrights, please advise us at copyright(at)playramp.com in order that we can solve the problems.
Add This Game to Your Site:
Link to The Game: