You are playing Car Wrecker game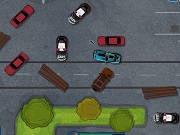 DESCRIPTION:
Car Wrecker is new car driving type parking game. You have a super powerful car which can blow other cars just by crashing them. Your objective in this game is to drive your car and reach the marked parking spot to successfully qualify for the next level. There are plenty of cars and other obstacles on your way such as, boxes and woods, so crash all these objects and reach the marked spot to park your car. There is a time limit in each level and you will need to complete the level before time's up. Game has eight amazing levels available for you to play and enjoy, so clear all levels with your skills and win the game.
All copyrights and trademarks of this game are held by owners and their use is allowed under the fair use clause of the Copyright Law. If you believe we violating your copyrights, please advise us at copyright(at)playramp.com in order that we can solve the problems.
Add This Game to Your Site:
Link to The Game: