You are playing Stake Out game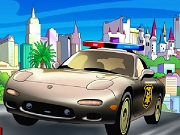 DESCRIPTION:
Stake Out is an amazing car driving game where you have to drive your car and follow your suspect without letting him know about your presence. Use your arrow keys to drive and control your car on challenging unknowns roads. There is a map on right bottom of your screen, so follow it carefully and drive your car accordingly to complete the challenge. There are obstacles on the road to make things much tougher, so be careful and avoid driving over them. Collect useful icons on your way to score points. Clear all challenging rounds available and win the game by using your driving abilities.
All copyrights and trademarks of this game are held by owners and their use is allowed under the fair use clause of the Copyright Law. If you believe we violating your copyrights, please advise us at copyright(at)playramp.com in order that we can solve the problems.
Add This Game to Your Site:
Link to The Game: