You are playing Save My Life game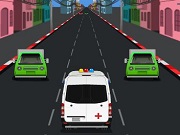 DESCRIPTION:
Save My Life is another very interesting driving game that challenges you to drive your ambulance and reach the endpoint to successfully complete the game. Use your up and down arrow keys to adjust gears, right and left arrow keys to steer your ambulance and hit space bar to make jumps. In this game, a little boy is in a bad condition after he had an accident and now the situation is worse and he need emergency treatment. So drive your ambulance carefully and avoid getting crash to any vehicle on the road, each crash will cause a damage to your patient. Reach the endpoint point and enjoy the game.
All copyrights and trademarks of this game are held by owners and their use is allowed under the fair use clause of the Copyright Law. If you believe we violating your copyrights, please advise us at copyright(at)playramp.com in order that we can solve the problems.
Add This Game to Your Site:
Link to The Game: