You are playing Rough Roads game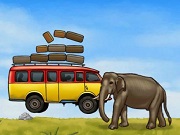 DESCRIPTION:
Rough Roads is another very interesting van driving game where you have to drive your cool van and travel beautiful cities of the world. Control your van by using your right and left arrow keys, you need to have a good reflex to avoid any hit or crash to other vehicles and objects that are making things harder for you. Collect useful items to perform better. Each city has their own challenges and obstacles, so overcome anything that comes on your way and cover certain amount of distance to enter the other city. Don't lose luggage's, if all luggage's are lost then you will fail. Complete the game and enjoy.
All copyrights and trademarks of this game are held by owners and their use is allowed under the fair use clause of the Copyright Law. If you believe we violating your copyrights, please advise us at copyright(at)playramp.com in order that we can solve the problems.
Add This Game to Your Site:
Link to The Game: