You are playing Trafficator game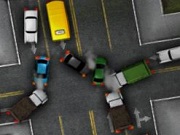 DESCRIPTION:
Trafficator is another very challenging traffic control game where you have to concentrate on the roads and vehicles to complete the level with ease and to unlock the next level. In each level, you have to complete the given target of making vehicles clear their way to cross the road without crashing to each other, if any car is crashed by other vehicles then you will fail in that particular level, also avoid hitting townspeople. Use mouse to play this game, click on the vehicles to stop or make them drive. As game progress the number of challenges will increase, so use your abilities and complete each level to win the game.
All copyrights and trademarks of this game are held by owners and their use is allowed under the fair use clause of the Copyright Law. If you believe we violating your copyrights, please advise us at copyright(at)playramp.com in order that we can solve the problems.
Add This Game to Your Site:
Link to The Game: