You are playing Miami Taxi Driver game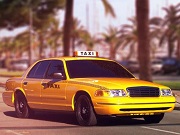 DESCRIPTION:
Miami Taxi Driver is new taxi driving game where you have to drive a car and take your passengers to their destination to earn money. In order to drive and control your taxi, you have to use your arrow keys and make sure you have good speed to reach the destination spot of your passenger in fastest time to successfully earn more money from every single passengers. You have to first take passengers from the parking spots and then follow the arrow mark to reach the spot where passengers want to go. Don't hit townspeople because it will lead towards a failure. Repair your car from the money you earned. Use your driving skills and earn as much money as you can.
All copyrights and trademarks of this game are held by owners and their use is allowed under the fair use clause of the Copyright Law. If you believe we violating your copyrights, please advise us at copyright(at)playramp.com in order that we can solve the problems.
Add This Game to Your Site:
Link to The Game: