You are playing Vintage Carbon game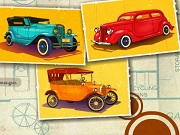 DESCRIPTION:
Vintage Carbon is new car driving game that challenges you to drive vintage car and reach the exit point to complete the level and to unlock the next. Use your arrow keys to drive and control vintage car on challenging areas with other cars parked around, press space bar to handbrake vintage car when it's most needed. In past owning a car was like a dream, but you like cars specially vintage cars, so you decided a shortcut way to own maximum numbers of vintage cars by stealing them. Be carefully while stealing vintage cars, because even a slight crash will cause a level failure. Choose your favorite vintage car from three available option and enjoy driving.
All copyrights and trademarks of this game are held by owners and their use is allowed under the fair use clause of the Copyright Law. If you believe we violating your copyrights, please advise us at copyright(at)playramp.com in order that we can solve the problems.
Add This Game to Your Site:
Link to The Game: