You are playing Crushing Cars game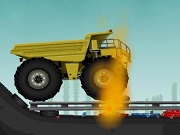 DESCRIPTION:
Crushing Cars is new truck driving game where you have to drive your truck on challenging tracks and crush all the cars on the way and reach the endpoint to successfully complete the level. In order to drive and control your heavy truck, you have to use your arrow keys. Smash as many cars and other vehicles on your way to score maximum points and be sure you won't flip your truck or hit harmful objects because it lead towards health damage. There are mines and other obstacles on the way, so drive careful and skip anything that comes on your way. There are nine challenging levels available for you to play and enjoy, so clear all levels and win the game.
All copyrights and trademarks of this game are held by owners and their use is allowed under the fair use clause of the Copyright Law. If you believe we violating your copyrights, please advise us at copyright(at)playramp.com in order that we can solve the problems.
Add This Game to Your Site:
Link to The Game: