You are playing Graveyard Crane Parking game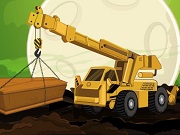 DESCRIPTION:
Graveyard Crane Parking is new crane driving game where you have to drive your crane and take coffins from old cemetery to the new cemetery. In order to drive and control your crane, you have to use your arrow keys, don't hit walls or other things to maintain a good health, use E,T and Y keys to pick up coffins and for other actions. You have to first drive into an old cemetery and follow the arrow mark to pick up the coffins, now drive your crane to new cemetery and complete the given task. You have limited time, so complete the level before time's up. Clear series of interesting levels and enjoy the game.
All copyrights and trademarks of this game are held by owners and their use is allowed under the fair use clause of the Copyright Law. If you believe we violating your copyrights, please advise us at copyright(at)playramp.com in order that we can solve the problems.
Add This Game to Your Site:
Link to The Game: