You are playing Blind Date game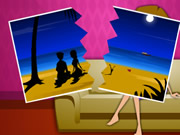 DESCRIPTION:
You have selected for a romantic date tonight with a handsome guy. This is set up by your friend's actually so you don't know even how he looks. But In this game you can try your luck by spinning the Wheel of Love: if you like the guy from result, need to select the dress for you from casual, professional and dressy. After that you'll go to the right place where you have to follow some sequences to make this night unforgettable. In this place you need to find and click objects so that night turn out to be a charming.
All copyrights and trademarks of this game are held by owners and their use is allowed under the fair use clause of the Copyright Law. If you believe we violating your copyrights, please advise us at copyright(at)playramp.com in order that we can solve the problems.
Add This Game to Your Site:
Link to The Game: