You are playing Boat Parking Challenge game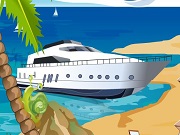 DESCRIPTION:
Boat Parking Challenge is another boat parking game which actually takes your lots of concentration and effort, as you are on a tough job to park your speed boat in a lot which is very challenging due to other boats on fleet. You have to use your arrow keys to drive and direct your speed boat to reach and park in the correct boat parking lot which has a highlighting boat mark. Collect as many lifeguard rings as possible and score more points. Avoid obstacle and crashing to other boats, if you hit or crash any harmful object then you will lose 1 life. Clear all ten levels and become a pro in boat parking.
All copyrights and trademarks of this game are held by owners and their use is allowed under the fair use clause of the Copyright Law. If you believe we violating your copyrights, please advise us at copyright(at)playramp.com in order that we can solve the problems.
Add This Game to Your Site:
Link to The Game: