You are playing Traffic Frenzy Rome game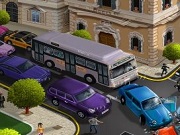 DESCRIPTION:
Traffic Frenzy Rome is very challenging traffic control game where you have make cars cross the road without getting crashed to other vehicles. There not only other vehicles but also trams that are crossing on road and you have to use your concentration abilities to avoid accidents to complete the level and to qualify for the next. Use mouse to play this game and click on traffic lights to either stop or start the vehicles. As game progress number of vehicles in later levels will increase and it will be a great challenge for you to avoid crashes. Clear series of levels and enjoy the game.
All copyrights and trademarks of this game are held by owners and their use is allowed under the fair use clause of the Copyright Law. If you believe we violating your copyrights, please advise us at copyright(at)playramp.com in order that we can solve the problems.
Add This Game to Your Site:
Link to The Game: