You are playing Balloons vs Zombies game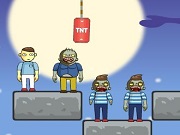 DESCRIPTION:
Balloons vs Zombies is a strategy and zombie game. In this game, your town is invaded by evil zombies and all your friends and family members along with townspeople are missing, now your goal is to kill all zombies in each level to save your local place. Use mouse to play this game, aim and shoot zombies by using the weapons you have and make sure to kill all zombies before you run out of knifes or other weapons. You should not shoot and kill friendly people who are standing in higher levels. Use each weapon or equipment wisely. Complete the level in fastest time possible to score more points. Clear series of levels and enjoy the game.
All copyrights and trademarks of this game are held by owners and their use is allowed under the fair use clause of the Copyright Law. If you believe we violating your copyrights, please advise us at copyright(at)playramp.com in order that we can solve the problems.
Add This Game to Your Site:
Link to The Game: