You are playing Trigger Down Mission game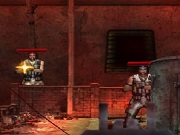 DESCRIPTION:
Trigger Down Mission is an awesome shooting game. You have to use mouse to aim and shoot your target in each level. You are on a mission to kill and eliminate all the evil mind enemies who have heavy armed. In each level you will assigned to kill certain number of enemies to complete the level successfully and to unlock the next level for new mission. While shooting your enemies try to aim and shoot their head to make them kill in one shot, also make sure you aim and shoot exploding items to kill a group of enemies with just one shot. Score more points in each level and later upgrade your weapons to perform better in later levels.
All copyrights and trademarks of this game are held by owners and their use is allowed under the fair use clause of the Copyright Law. If you believe we violating your copyrights, please advise us at copyright(at)playramp.com in order that we can solve the problems.
Add This Game to Your Site:
Link to The Game: