You are playing Sands Of Doom game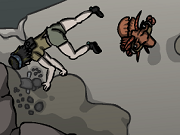 DESCRIPTION:
Sands Of Doom is a very challenging shooting game. In this game you are trapped with some deadly creatures of the world in a dangerous cave, all you have to do is to go as deeper as you can to discover f the please to escape. As you are in this cave and on a mission to find the place to escape you will have to fight and win the battle against the oceans best fight lobster, dangerous crabs and cunning mermaids. Kill these deadly enemies and collect golden coins, bag of gold and many useful items. Unlock new weapons and win the battle. Good luck!
All copyrights and trademarks of this game are held by owners and their use is allowed under the fair use clause of the Copyright Law. If you believe we violating your copyrights, please advise us at copyright(at)playramp.com in order that we can solve the problems.
Add This Game to Your Site:
Link to The Game: