You are playing Battlefield Escape 2 game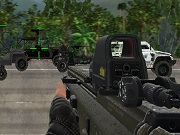 DESCRIPTION:
Battlefield Escape 2 is another very challenging shooting game. In this game, you got an intense responsibility to protect and save the vehicle in which dignitary is travelling. As you are the best sniper in army and the expectations are always high, so don't let your higher officer down and protect the dignitary from your enemies and let dignitary escape from battlefield safely. Use your mouse for aiming your target and click the left button to shoot them. There are six best powerful weapons available in the game, select one and get down to battlefield to destroy enemies. As game progress, number of enemies and their vehicles will increase to damage dignitary's vehicle, but you need to have very quick reaction to kill them away. Watch you ammo's on top of the screen and click R to reload the weapon when it's most needed.
All copyrights and trademarks of this game are held by owners and their use is allowed under the fair use clause of the Copyright Law. If you believe we violating your copyrights, please advise us at copyright(at)playramp.com in order that we can solve the problems.
Add This Game to Your Site:
Link to The Game: