You are playing Zombies Exterminator game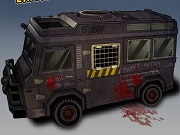 DESCRIPTION:
Zombies Exterminator is an awesome driving and shooting game. In this game, you have to drive your amazing van and reach the right spot to eliminate zombies from the local place. In each level, your goal is to drive your van and reach the marked parking spot, once you park your van you will then face zombies, now all you have to do is kill certain numbers of zombies to achieve the given target and qualify to take the next challenge. As game progress number of zombies will increase and it will be an intense challenge for you to shoot all these zombies. Use arrow keys to drive, follow direction on map to reach the spot with ease, use mouse to aim and shoot zombies. Clear all eight levels and enjoy the game.
All copyrights and trademarks of this game are held by owners and their use is allowed under the fair use clause of the Copyright Law. If you believe we violating your copyrights, please advise us at copyright(at)playramp.com in order that we can solve the problems.
Add This Game to Your Site:
Link to The Game: