You are playing I Want Christmas Gifts game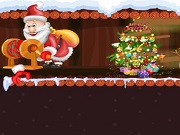 DESCRIPTION:
I Want Christmas Gifts is an amazing gifts collecting type Santa game. In this game, few kids are unhappy for not getting gifts on Christmas Eve, so Santa decided to get few gifts from his secret place and deliver them to special kids who are sad for not receiving gifts. So help Santa in his mission and collect as many gifts items as you can to achieve the targeted score. In each level there is a time limit, so try to collect enough items to score the target before you run out of time. Upgrade and buy diamond cards, bombs strength and other useful things to perform better in later levels. Try to clear all 36 levels and win the game.
All copyrights and trademarks of this game are held by owners and their use is allowed under the fair use clause of the Copyright Law. If you believe we violating your copyrights, please advise us at copyright(at)playramp.com in order that we can solve the problems.
Add This Game to Your Site:
Link to The Game: