You are playing Beat The Traffic game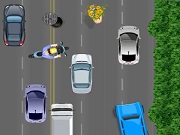 DESCRIPTION:
Beat The Traffic is an amazing motorbike riding game where you have to help a boy to reach bus stop to meet his girlfriend who is waiting for him on bus stop. In order to control and balance the bike, you have to use your arrow keys. There are plenty of obstacles on the way and the only way to reach the desire place to meet girlfriend is by riding the bike and avoiding anything that comes on the way. There are cars and other vehicles driving and parked, so be careful and avoid crashing. Collect as many flower bouquets as you can to make score huge. Complete the ride before time's up. Complete all available levels and enjoy the game.
All copyrights and trademarks of this game are held by owners and their use is allowed under the fair use clause of the Copyright Law. If you believe we violating your copyrights, please advise us at copyright(at)playramp.com in order that we can solve the problems.
Add This Game to Your Site:
Link to The Game: