You are playing Car Service Parking game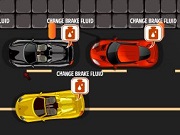 DESCRIPTION:
Car Service Parking is another very challenging driving and parking game where you have to drive several cars in each level and and provide them the service to complete the current level. You have to walk and reach the parking spot where cars are parked and once you stand near the car click enter key to sit in and drive the car, use arrow keys to drive and control the car and don't hit anywhere to maintain a good health. There will be a target in each level that you need to achieve before time's up. Upgrade new stations to earn more points in later levels. There are eight levels, clear all levels and have fun.
All copyrights and trademarks of this game are held by owners and their use is allowed under the fair use clause of the Copyright Law. If you believe we violating your copyrights, please advise us at copyright(at)playramp.com in order that we can solve the problems.
Add This Game to Your Site:
Link to The Game: