You are playing Garbage Truck Drive game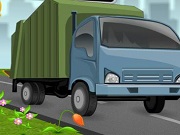 DESCRIPTION:
Garbage Truck Drive is an amazing driving game where you have to drive your garbage truck in several places of city and pick up the garbage from bins. Use your arrow keys to drive your truck, controlling your garbage truck is an essential component in this game because you have to be very careful in driving your truck on roads without hitting anyone or crushing anything. In each level, you must pick up the garbage from all bins which are available in that particular level to complete the level. There is a time limit to complete this job, so be as fast as possible to complete the level before time's up.
All copyrights and trademarks of this game are held by owners and their use is allowed under the fair use clause of the Copyright Law. If you believe we violating your copyrights, please advise us at copyright(at)playramp.com in order that we can solve the problems.
Add This Game to Your Site:
Link to The Game: