You are playing Firefighters Emergency game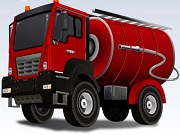 DESCRIPTION:
Firefighters Emergency is new driving and rescuing game where you have to drive a firefighter truck and reach the marked parking spot near the building where fire is caught. Once you park accurately in marked spot now pour water to fire out the building to rescue innocent people, be careful because you have limited chances to fire out and if you miss in those attempts then you will fail in current level. On your way collect as many golden coins as possible and later use these coins to buy and upgrade useful equipment's to perform well in later challenges. Game has eight levels for you to play and enjoy, so clear all levels and have fun.
All copyrights and trademarks of this game are held by owners and their use is allowed under the fair use clause of the Copyright Law. If you believe we violating your copyrights, please advise us at copyright(at)playramp.com in order that we can solve the problems.
Add This Game to Your Site:
Link to The Game: