You are playing Golf Cart Challenge game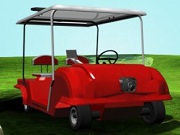 DESCRIPTION:
Golf Cart Challenge is another very challenging driving game where you have to drive your golf cart and reach the other end of the track to successfully complete the level and to unlock the next challenge. Use your arrow keys to drive and control your golf cart and balance it well enough to avoid health damage. Keep your eye on health bar and don't let it get empty, if that happens then you will fail in current level. Collect as many golf kits as you can on your way to score maximum points. Complete the level in fastest time possible, because there is a time limit in each level. Clear series of interesting levels and enjoy the game.
All copyrights and trademarks of this game are held by owners and their use is allowed under the fair use clause of the Copyright Law. If you believe we violating your copyrights, please advise us at copyright(at)playramp.com in order that we can solve the problems.
Add This Game to Your Site:
Link to The Game: