You are playing Line Parking game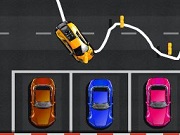 DESCRIPTION:
Line Parking is an unique car parking game where you have to be sharp eyed and draw a line for your sports car to let it drive safely and reach the parking spot to successfully complete the level and to qualify for the next. Use your mouse and draw a line in such a way that your car won't hit any objects or vehicles. Draw the line over stars so that the car can collect them all to score points. As game progress later levels will get harder and you have to draw lines very skillfully to avoid any mishap. Clear series of levels that are available for you to play and have fun.
All copyrights and trademarks of this game are held by owners and their use is allowed under the fair use clause of the Copyright Law. If you believe we violating your copyrights, please advise us at copyright(at)playramp.com in order that we can solve the problems.
Add This Game to Your Site:
Link to The Game: