You are playing Save The Fish game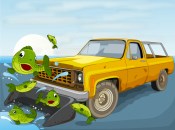 DESCRIPTION:
Save The Fish is an amazing driving game. In this game, you are hired by a fish vendor to place his fishes in the fresh water to save them and as well as to keep them fresh. So your job in this game is to drive your truck and direct the fishes to fresh water. Use your arrow keys to drive and control your truck, but make your you have good control to avoid running your truck on someone in the marketplace, press space bar to brake your truck. In each level there are certain numbers of fishes that needs to be saved, but as game progress your challenges will get tougher with increasing number of fishes. There are eight levels, save all fishes in each level and win this unique driving game.
All copyrights and trademarks of this game are held by owners and their use is allowed under the fair use clause of the Copyright Law. If you believe we violating your copyrights, please advise us at copyright(at)playramp.com in order that we can solve the problems.
Add This Game to Your Site:
Link to The Game: