You are playing Demologic 2 game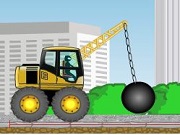 DESCRIPTION:
Demologic 2 is new driving and demolition game where you have to drive your crane as a professional driver and demolish blocks that are available in the level to complete it and to unlock the next. Be sure about making a contact between red blocks and statuette to successfully complete the task in current level. Use arrow keys to drive and control your crane and hit the blocks with wrecking ball to destroy it There are stars in each level, so try to collect all stars to get high ratings. As game progress, the challenges in higher level will increase so use your skills and complete series of levels to win the game.
All copyrights and trademarks of this game are held by owners and their use is allowed under the fair use clause of the Copyright Law. If you believe we violating your copyrights, please advise us at copyright(at)playramp.com in order that we can solve the problems.
Add This Game to Your Site:
Link to The Game: