You are playing Ex Sniper game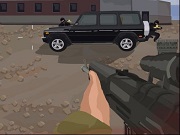 DESCRIPTION:
Ex Sniper is another very challenging shooting game where you have to fight against terrorist to shoot them out. In this game, you have to use your mouse to aim and shoot your targets, use W and S for zoom in and zoom out, tap A key to throw grenades and X key to change your weapon. After years of break, you were called back again to the military to kill those evil terrorist who are kidnapping and killing innocent civilian, creating trouble in local place, so get down into serious business of shooting and kill all terrorist. Avoid killing civilians.
All copyrights and trademarks of this game are held by owners and their use is allowed under the fair use clause of the Copyright Law. If you believe we violating your copyrights, please advise us at copyright(at)playramp.com in order that we can solve the problems.
Add This Game to Your Site:
Link to The Game: