You are playing Space Protect game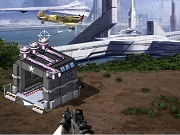 DESCRIPTION:
Space Protect is another very challenging shooting and defense game where you have to protect your castle from the enemies attack and kill certain numbers of enemy soldiers to accomplish the current mission. Use your mouse to play this game, aim and shoot your enemies before they make a serious damage to castle. There are not only enemy soldiers who are attacking the castle, but also there are missiles too and that may cause a massive damage to the castle and the chances are that you will lose the battle, so destroy the missile before something worst takes place. Complete series of intense levels and win the battle.
All copyrights and trademarks of this game are held by owners and their use is allowed under the fair use clause of the Copyright Law. If you believe we violating your copyrights, please advise us at copyright(at)playramp.com in order that we can solve the problems.
Add This Game to Your Site:
Link to The Game: